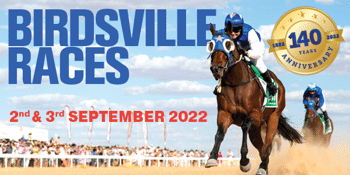 Birdsville Race Club & Tourism and Events Queensland & TAB present
Birdsville Races 2022
Birdsville Race Club (Birdsville, QLD)
Fri 2 - Sat 3 September 2022 11:00 am
BIRDSVILLE RACES 2022

With the first meeting held way back in 1882, the Birdsville Race Club will celebrate its 140 years anniversary in September 2022.
Over a 13-race program on Friday 2nd and Saturday 3rd September, you'll witness all the fanfare and excitement of a typical racing meet, superimposed on the dramatic and dusty desert landscape. With $260,000 prize money on offer, you can bet the racing is serious. The early races may have attracted nearby stockmen and property owners – and both still feature heavily in winners' lists – but the modern field is full of national and even international entrants vying for the prized Birdsville Cup.
Crowds of over 6000 racegoers celebrate the carnival each year enjoying two days of quality outback racing and three great nights of live entertainment. Other entertainment includes the RFDS Cocktail Party, RFDS Fun Run, Fashions on the Field, Fred Brophy's Boxing Troupe, a variety of food vendors, a giant auction, and much more.
Great entertainment, class horseracing and premium hospitality makes for a fantastic week in the heart of Australia's outback.

BECOMING A BIRDSVILLE RACES ROADIE

All ticket holders for the Birdsville Races become automatic members of the Birdsville Races Roadies. The Roadies is a FREE membership designed to enhance your travelling & Races experience; providing you with an on-line profile to connect and travel with other Roadies with dedicated routes from most capital cities, fantastic rally style door stickers to display your colourful "team name" with pride, exclusive merchandise, plus Roadies membership cards for competitions and discounts. A Roadies membership is MUST for Birdsville Races attendees!

Roadies membership includes two rally style Roadies vehicle door stickers per vehicle and one member card per ticket booked. As the Races are less than one month away, there is no longer sufficient lead time to have your stickers and member cards posted to you as they will not arrive prior to your departure. As such, you can collect your door stickers and member cards at the Roadies Marquee at the Races on either race day. Additional stickers (2 per additional vehicle) can be provided for tickets purchased in groups where attendees are travelling in separate vehicles.

Check out the Birdsville Races Roadies here
https://birdsvilleracesroadies.com

VOLUNTEERING AT THE RACES

There is no better way to experience an event than to contribute to making it happen. You will find volunteering at the races to be a challenging, rewarding and exciting experience. Volunteers work as part of a small, supportive and fun team of like-minded people, and the time you give will make a real difference to the event, it's patrons, and to the quiet town of Birdsville.

Volunteers receive a reimbursement for the purchase price of general admission entry tickets as well as additional exclusive Birdsville Race Club merchandise.

Register your interest in the ticket purchase process.